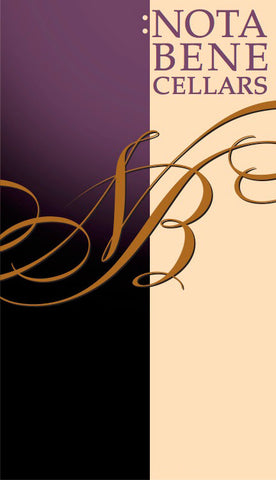 Our 3rd wine...and only with respect to this list and surely not in quality...is a blend fromConner Lee Vineyard, Chandlers Reach Vineyard, and Kestrel View Estates, but also includes a touch ofKlipsun Cabernet for softness and a splash of Ciel du Cheval Petit Verdot for color and aroma.
49% Merlot (33% Chandler Reach, 16% Kestrel)
34% Cabernet Sauvignon (25% Conner Lee, 6% Klipsun, 3% Kestrel)
16% Cabernet Franc (15% Kestrel, 1% Ciel)
1% Petit Verdot (Ciel)
Aged in 75% new French oak barrels for 21 months; 165 cases were bottled on 6/22/03.
We have called this wine Miscela, Italian forblend, out of respect for the Italiantradition of home winemaking, which Tim experienced growing up in the predominantly Italian communityof Ellwood City, Pennsylvania. After a truly exciting night at tender age of 15...with GuffGeniviva's blend of Zinfandel and a touch of Muscat*...Tim knew that there was more grapes thanthe Thompson seedless his mom was bringing home.
Note that Merlot is the dominant component of Miscela. This is the wine we recommend to all ourfriends who begged us to make them a Merlot. We're sorry we couldn't resist the urge toblend, but its such a success that we hope you will forgive us. The Bing cherries are everywhere inthis wine, yet it's a bit softer and rounder than the Ciel. Tim thinks this is due to the hotfermentation of the Conner Lee Cab...his first experience with this vineyard. Look for more ConnerLee in succeeding years in the form of Merlot...this is a wonderful vineyard. But do notunderestimate the contribution of the Chandler Reach Merlot...where all red varietals are showingexceptional style and grace.
*This was Guff's local version of Chianti since he lacked access to the traditionalgrapes...Sangiovese and the white grapes of the region, Malvasia and Trebbiano
Related Products
---